Mobile marketing in Cyprus
Cyprus

had in December 2009 0.977 million mobile phone subscribers, or a 112.23% penetration rate.
Trends in Mobile Utilization
The use of mobile has become more important than the use of desktop PCs
40% of iPhone/iTouch users access the Internet more on their mobile devices than on desktop PCs.


By end 2012 more Google Searches will be done on mobile devices than on PCs.



The major ISPs in Cyprus (Cyta, MTN, Primetel) are rapidly extending their network of WIFI hotspots and facilitate mobile internet access.
Mobile Marketing

What we can do for your business in Cyprus

Short Message Service (SMS)
While a SMS Mobile Marketing program is similar to an email campaign there are also many differences.
Most companies choose to work with an experienced digital marketing company such as EworksWSI who packages the expertise and creativity, together with easy-to use tools where the users can create, send messages and analyze the results of their campaigns. Check out our SMS management platform!

Download the SMS management platform User Guide here
Mobile Banner Ads


Mobile Websites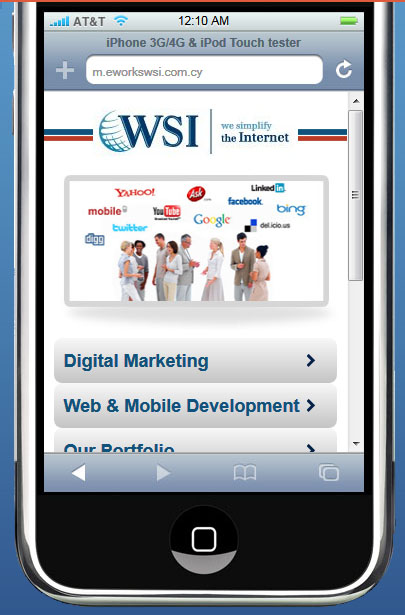 Developing a website optimized for mobile browsing is a simple first step.

A mobile website will have categories that are most relevant to mobile customers (i.e., geolocalisation: store locators, get directions, links to product inventories and contact information) on the first page.

Mobile websites will be more concise, with simpler directory structures and lighter images as connection speed and available bandwidth is still an issue in Cyprus.

Download our current offer for mobile site development and optimization HERE:


330kb - 20-Jun-2011 - Download - Save for Later

---


Try out as example our mobile site on your smartphone: m.eworkswsi.com.cy


Mobile Search, Optimization and Analytics

Mobile sites are indexed differently than websites by the major Search Engines like Google , Bing, etc.
If you want your mobile to be found by mobile searchers it must be specially optimized:
Please download our offer on mobile optimization in Cyprus here:


330kb - 20-Jun-2011 - Download - Save for Later

---
Analytics play a crucial role in the development of coherent mobile strategies and the prioritization of marketing spend in the same manner as they do with standard websites. Yet for most brands today, this isn't happening

.
Smartphone Applications
Smartphone applications or often called 'mobile apps
' are specific to the OS your smartphone is running (iOS, Android, Symbian,
Windows mobile, etc).

We developed a sample Symbian (for Nokia smartphones) application:
Try it on your Nokia phone

The iPhone is the most popular Smartphone worldwide.
Discover how to get tyour business on the iPhone
Mobile Video
Watch below our video on mobile marketing