Build your eshop in Cyprus
Thinking of building your eShop in Cyprus?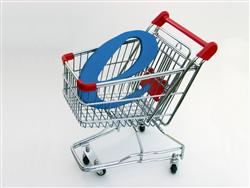 If you plan to sell your products or services online though an eShop in Cyprus, you might be wondering from where to start. Frequent questions are:
Is e-commerce suitable for my business?
Which products can I sell online?
From where can I get the betst eShop software?
What is the best ecommerce platform to use?
Will my staff be able to handle this?
How to build a powerful eshop?

There are many different situations that can take advantage of e-commerce and enhance sales, it is not always tangible products, but think as well of downloadable products such as e-books, magazines, images, mobile applications, and so forth. Education is an other sector that can easily benefit from e-commerce through e-learning systems.
One of the most obvious starting points to create an ecommerce site is often your already existing retail (or wholesale) shop selling physical items to an established client base:
Your primary objective is to increase sales through your eShop!
- by expanding your customer base from the traditional neighborhood clients in Cyprus to a national or even international clientele through online sales,
- decreasing stock (higher turnover, easily follow inventory and sales reports)
- more flexibility: advertise instantly offers in your eShop, new arrivals, online discounts
- make potential customers aware of your brand, increase brand awareness with online advertising your ecommerce
- get your products and offers in front of potential clients and allow them to buy immediately 24/7 in your eShop through a secure payment gateway
- engage your customers online and respond to them without additional staff.
The challenges of creating an e-Shop in Cyprus
The very first concern that is voiced by shop owners who start planning for their eShop is cost, but as we continue progressing through an e-commerce project, we'll find that the most important investment required to get your business online is not budget but time and the availability to acquire new selling skills.
Which physical products sell well in an e-Shop?
One consideration will be the sales price of your main products: the commonly accepted best price range for products to be sold online is between 25€ to 150€:
- a lower value will probably make the relative shipping cost too expensive,
-for items over 200€ you'd need to plan for availability (phone, LiveChat, etc) as customers will want to talk directly to a sales person prior to buying online.
The nature of products that can be sold in an e-Shop is less important, as consumer behavior is rapidly changing.
Only a few years ago no-one would imagine to sell cloth through an online store thinking that customers would want to touch and feel them before purchasing, it's a common shopping pattern today especially with easy return policies and free shipping to the customer's doorstep.
Another example is the online sale of groceries, that has been a definite no go for online shops but the recent development of for example the French Supermarket's DRIVES (about 600 new outlets are created every month) is proving how selling groceries through e shops is increasing supermarkets client base and sales: Customers order online, pass from a conveniently located warehouse and get the grocery order packed into the boot of their car. No queues, everything fresh, already paid online. Clients do appreciate the convenience and gain in time.
Selling digital products and services through your e-Shop
Non tangible items, or digital products, are ideal for e Shops as these are getting directly delivered on the support where they are used (smart TV, PC, Tablet or smartphone). Not all ecommerce applications can manage all aspects of downloadable products, if your list of products contain digital items, you should assess carefully the capabilities of your e-commerce.
Selling Services through your e-Shop
Services can include subscriptions to support, training, psychotherapy, etc, they are generally not consumed on the device through which the are purchased. As users access the web more and more often though mobile devices it would be more important to have this part of your online store set up in a mobile compatible and friendly way.
EworksWSI creates and delivers powerful customized e-Commerce solutions to increase your sales through an entire online business in Cyprus.
After careful analysis of your current situation and business goals, WSI develops the specific online shop in Cyprus that makes visiting your e-Commerce store an engaging experience for visitors and will convert them to satisfied customers. Our proven processes will optimise the performance of your online business.
Your online store will be open 24hrs a day, 7 days a week to accept orders in Cyprus and, you will be amazed from where other orders will be coming from: worldwide.
EworksWSI provides many different e-commerce platforms each serving a specific purpose. Ceck out the ecommerce options we use to build your very own eShop:
Click here to see the WSI supported Ecommerce solutions