Content Marketing
Content is most effective when you present it as a story. A story for a specific audience, at an exact stage of the buyer's journey. We can help turn your content into the personalized story people crave.
---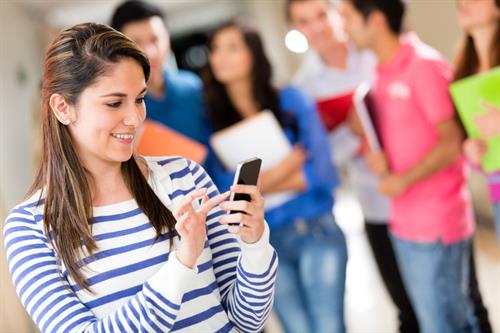 Create content that speaks to the right people
Your business exists because you know there are people who are looking for your product or service. Create content that speaks specifically to your ideal audience. They'll connect with your company more.
Content Marketing in Cyprus
Content marketing has given small businesses in Cyprus the opportunity to become their own publishers of news and content. It has leveled the playing field between small and large businesses due to the fact that it's now affordable for all of us to publish and curate content. But the challenge that many businesses usually face in Cyprus is finding the time and developing a mindset to create a consistent flow of new, interesting information. Many sites in Cyprus are multilingual, at least in English and Greek and the additional challenge is to create the relevant content in the adequate language. Competitive intelligence, can help you become a content marketing secret agent, but there's another target audience that you need to pay an equal amount of attention to: your ideal customer. In the past, digital marketers would make educated guesses about the type of content needed for businesses, but this strategy can be a hit-and-miss approach and it leads to creating content that is only read by a few people. In order to be successful at content marketing, you need to add value. You need to speak directly to the challenges that your ideal customers face and help them solve these challenges – in turn, you become the go-to person for their business. There are a few things you need to do to achieve this.

UNDERSTAND YOUR CUSTOMER
This is a key question when determining the roadmap for your content marketing strategy.
Where do your customers hang out in real life and online?
What forums and websites do they visit?
What challenges do they face and what kind of content can you create that will help them overcome these challenges?
Buyers are already overwhelmed by the amount of content that businesses generate (and you're not the only one distributing content). Buyers have difficulties to find relevant information in the sheer amount of content coming from everybody who is marketing in the digital space.
We need to shift our thinking as publishers and provide content that breaks through the vast amount of digital noise. The only way we can do this is by focusing on quality instead of quantity. Marketing budgets are limited, which is why digital marketers need to focus on generating content that is well-received and leads to conversions. Instead of embarking on a costly exercise of generating new content from the get-go, many marketers can make great strides by taking a step back and conducting a content audit to determine the following:
Find out what content already exists within your company.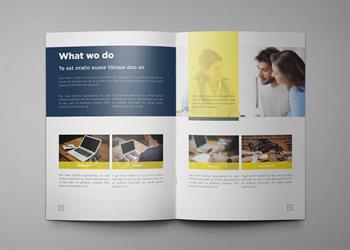 There are most probably already presentations, proposals, brochures and action plans in your company that can be easily adapted for content marketing purposes. A lot of great content will already be available within an organization and many times, all you need to do is remove sensitive client information and repurpose it for your target audience.
Take a content inventory and identify gaps to fill. When creating an inventory of content, you will probably find that there's a lot of information available on a number of products and services, but there are giant gaps when it comes to other products or services that a company offers. Identifying the gaps will give you a good starting point when it comes to determining what you need to write about.
Replace or remove outdated content.
Few people visit their corporate website on a daily basis and they're usually horrified to see how outdated some of the information is. A content audit will show you where you need to remove and replace old legacy content. Improve the quality of existing content. Use content in new and different ways. If you're working with content that's more than five years old, you might find that it contains good information but the tone, style and focus don't hit the mark.
Improving on existing content

Improving on existing content is a good way to stretch your marketing budget Instead of getting completely new content written, you can tweak content that's already been created in order to make it more effective. Case studies can be transformed into downloadable Whitepapers, internal company news can be turned into blog posts, PowerPoint presentations can be repurposed into SlideShare presentations and photos from your conferences and functions can be used to populate your Pinterest account. Making your content strategy as far-reaching and effective as possible starts with being innovative about how you can take content and turn it into multimedia items, news items or any type of content that your target audience would want to consume.
Find out who you can team up with to curate additional content.
If your primary business isn't to become a news agency for your industry, you can't spend all your time creating quality content. The smart way to share the latest, best and most relevant information with your fans and followers is to dedicate a portion of your content strategy to content curation. Content curation is sorting through a large amount of web content to find the best, most meaningful bits and presenting these in an organized, valuable way. It's a valuable part of any successful content marketing strategy.
Content Marketing Success: Our 2min Video
Content for the different Stages of the Buying Cycle
The marketing funnel is a model that shows the journey of how a potential customer becomes a client. Planning and creating a funnel helps you strategize exactly how you can create a streamlined process that will result in increased sales for your company.
This model will help ensure that you don't miss out on the most significant audience – the people who are looking for a solution, but are not yet aware that your company can provide it. The content you create - blogs, articles or curated content that you share on social media - needs to speak to the specific stages of the buyer's journey so that it is relevant and valuable. This helps with moving the reader down the funnel of awareness to a purchase decision.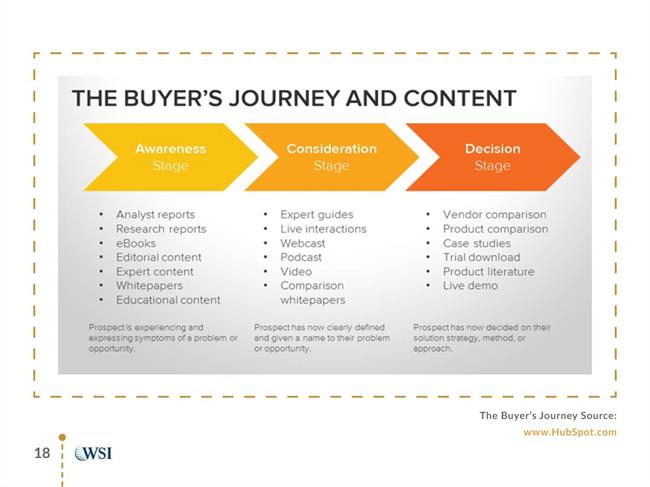 The Buyer's Journey Source: www.HubSpot.com
Awareness Stage
In the first stage, potential buyers have a query about something they are looking to do but may not know how to go about addressing the issue or what product they require. Potential buyers will use a search engine to type in their query, finding you on Facebook, Twitter or through blog posts that address this query.
Content that responds to searches at the awareness stage is:
Analyst Reports
Research Reports
eBooks
Editorial Content
Expert Content
Whitepapers
Educational Content

Consideration Stage
Their next step will be to do further research on your products or their query, requiring more indepth information from eBooks, webinars and industry reports in order to make an informed decision. Your case studies and customer testimonials will then provide the corroborating material to reassure potential customers that your product and service is the best choice to address their need.
Decision Stage
Lastly, detailed and technical product information and analyst reports will tell the potential client exactly how to use your product upon purchase. By developing content that speaks to a consumer based on what part of the buyer's journey they are at, you can address and hold your potential client's attention from the very beginning, allowing them to navigate through content towards a purchase while empowering them at each individual stage with appropriate information.
Not only will buyer personas and industry verticals help you narrow down the types of content that you need to create, but it will also help you understand the triggers that cause people to search for information in your industry. In many cases a potential customer is triggered to start searching for solutions once they become aware of an existing or potential problem. If you're selling home insurance, for example, people could either start searching for what you've got to offer after they move into a new home, after they've been burgled, if they're investing in new household items and electrics or if they're expecting a baby.
Knowing that these are the triggers, you will be able to determine what questions each persona will need answered in order to achieve their goal. This is a vital aspect for developing an effective content strategy that will usher potential customers down the content funnel until they become a buyer. By using persona information to create content that answers the searcher's question in a helpful way it will also build trust in your brand and help establish you as a thought leader in your industry.
---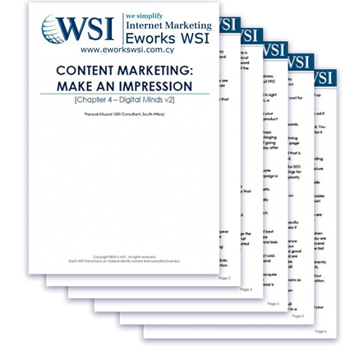 Learn what Content Your Customers expect


Your perfect Content Marketing Mix


Types of Content


Creating Your Content Team


The Importance of Establishing Buyer Personas


The Value of a Content Calendar


Marketing Your Content
---
CONCLUSION
A content marketing strategy is the blueprint to achieving your goals. At EworksWSI Cyprus, we have our content marketing strategy template that outlines everything from your company's content marketing goals to the various content themes that you will be focusing on each month.
A few other things that your content marketing strategy should include are the commitments that were made from team members, factors that can contribute to the success of the strategy, the components of the strategy (such as webinars, webcasts, social media updates, whitepapers, blog posts, newsletters and videos) and the steps that need to be followed in order to successfully execute each phase of the strategy.
It also includes a high-level calendar so that you can see which marketing tactics are planned for each month of the year.
The true power of your content marketing strategy occurs when your content is shared and syndicated across your customer's social channels as well. Once you've determined how you're going to go about creating and distributing content, you can use this strategy to encourage your audience to share your content and help build your brand's awareness.
---
---
Specific Content Marketing Resources
Content marketing has given small businesses the opportunity to become their own publishers. Creating and distributing valuable, relevant, and consistentcontent forms an online marketing strategy designed to attract and retain loyal customers. To do this, a workable content marketing plan is crucial – here are 5 key ingredients for achieving success with content marketing.
---