E-catalogues

Online publishing now available in Cyprus - View samples

What are e-catalogues?
Any printed material as used today in marketing, sales or even operations can be digitized
as e-magazine or digital magazine
and will bring
great value your business.

This is the next generation of online content:


Product catalogs
Annual reports
Brochures
Sales sheets
other marketing collateral

The Content is i nteractive (IContent) and
will turn your static documents into an interactive, dynamic online experience for the reader. It is easly distributed by e-mail, on CDs or USB keys. You may make it available on your own website or host it with Eworks WSI Cyprus.

E-publications is the most cost effedctive way to increase your return from marketing & sales printed materials, generate more engagement from your customers and convert more prospects.

Click here to flip through a few examples of how different Industries benefit form WSI online publications.
---
Case study:


WSI – Mississauga, Canada - The WSI Wisdom Book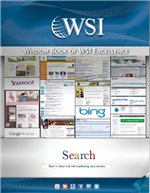 WSI wanted to print out 500 samples of this collection of case studies to distribute it to one of the annual conferences.

After investigating the advantages of the digital publication, WSI added a collection of white papers and published it online.

The goal was to have the case studies book available for end clients with an easy access for anybody worldwide.
Results:
WSI saved more than USD 6000 by using the digital magazine version instead of the printed version.
In 4 months from launch the book was read by 2657 unique readers who were located in more than 80 countries.
These results could not have been achieved within the initial budget.