The importance of product images in eCommerce
Excellent product images are extremely important in eCommerce as visuals form a large part of a potential customer's first impression in the buying process.
Blurry, inconsistent and small product images can have you lose potential sales.
Here are some tips on product images that eCommerce owners should consider before launching their eCommerce store.
1. Chose a simple white background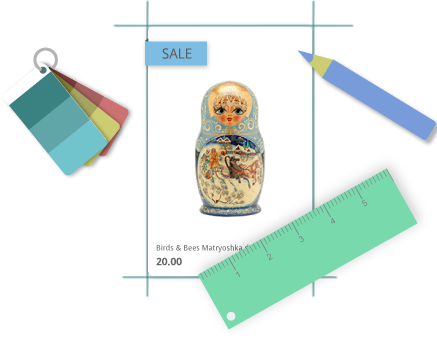 A simple, white background will give any eCommerce store a professional and consistent look. It will draw attention to what's being sold and match any colour, so if the eCommerce store owner chooses to change the site theme in the future, their product images won't need replacing. Alternatively, if your are selling the same products on other eCommerce marketplaces (for example Google Shopping, eBay or Amazon), or if you publish your eCommerce product images on your social media platforms, a white background won't clash with any other website design.
Removing the background also makes it possible to create a ghost image, which will take any online clothing store to the next level. A ghost image, or ghost mannequin effect, is where the item of clothing looks like it's floating on an invisible mannequin, giving it a more realistic and 3D shape.
2. Bigger is better
What determines the size of an image? When it comes to product photography, the bigger the better. The image that you upload to your eCommerce store acts as the base image. An eCommerce template will have pre-set dimensions for the size of the image on the product's listing page (the catalogue view), as well as the thumbnail that appears on the shop page (mostly the home page of your eCommerce layout). It is uncommon for ecommerce product templates to be larger than 450 pixels on the longest size, but when you consider that the size of an average 13 inch laptop screen is about 1,300 pixels, that's actually really small. Unless you've changed the settings or are using an extremely old device, most smartphones, point-and-shoots, and DSLRs will produce a much larger image.
A lot of store owners make the mistake of resizing their images to the template size before uploading them, thinking the base image must be the same size of the template. Don't fall into this trap! As long as the ratio of a product image's dimensions match those of the template, our eCommerce templates will automatically resize and display the product image in the correct size of the template location (home page, catlogue view, detailed product view) without any awkward cropping or blocks or space around the side, preserving the size of the base image.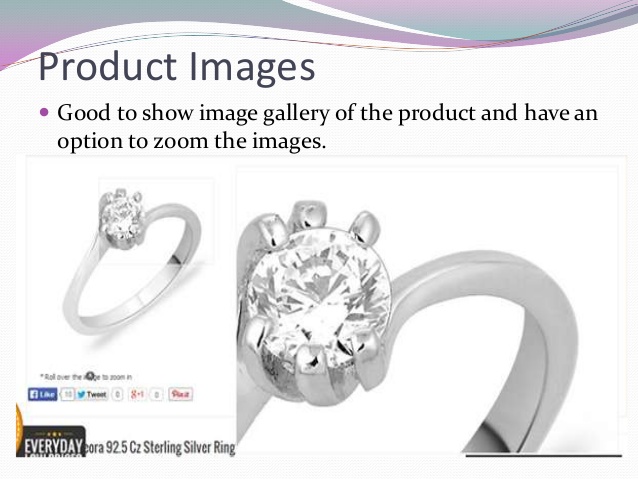 Why is this important? One of the best ways to improve the user experience of a customer is for your client to install a zoom feature. Regardless of whether it's a click or hover zoom function, when the customer zooms they are actually just viewing the image at its full size – it's not a magnification or 'zoom' as the name suggests. This means that if your base image is the same size as your template, the zoomed image will be the same size as that displayed on the product listing. It is recommended that your product base image should be anywhere between 1,200px and 1,600px on the longest side. One additional consideration is the need to have the customized, resized images produced on the server side before displaying them to avoid long page loading times that just would penalize your eCommerce store rankings in the search engines.
3. Give your online catalogues some Consistency
A white background is just the first step to giving your eCommerce store a clean, consistent look. You, or your designer, may want to create a picture template on photoshop or GIMP; it will save time cropping, resizing, and judging the consistency of your product images by eye.
On the catalogue view (i.e. the product listing view) the picture display can be fine-tuned by adding programmatically colored frames, shadows or some flipping effects to your product pictures. The white background approach has as well its limits if you are primarily selling products in light colors; imagine wedding dresses on a white background. Your eCommerce platform should be able to provide custom catalogue views that will allow you to maintain the consistency on your catalogue level.
4. Add more product views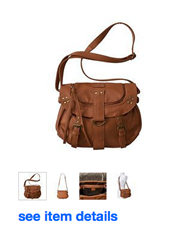 When it comes to online shopping, one of the biggest causes of consumer purchase resistance is the inability to well visualize a product. Take multiple photos of your product; you will appear confident in what you're selling and as a result, the customer will be confident in what they're buying. Products that don't meet the customer's expectations for whatever reason can be damaging to your reputation and you're likely to lose the sale, lose the customer and get more returns.
Start off with a 'hero image'. This photo will be the first of a series under your product detail view and represent the product itself on the 'shop or home' page. Usually, the hero image is a front-on shot of the product. Some exceptions would be shoes that are usually taken from the side, plates from above, and chairs from a 45° angle.
Under the hero image, it's important to add a series of photos (we call them poplets) that will help online shoppers visualize the entire product from all sides, most importantly close-ups of special features or textures and shots from alternative angles.
A good idea to end a series of product images is an in-context picture.
Examples of the power of in-context photos: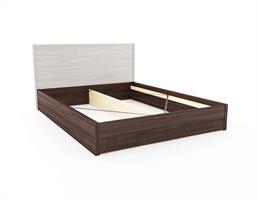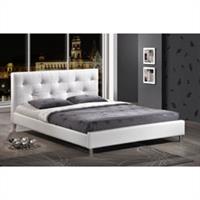 Flick through a furniture catalogue see the piece of furniture in-context and suddenly want to buy the entire room? Or searching for a T-Shirt, you flick through a clothing catalogue and realise you need that entire outfit? An in-context shot is a well-composed photo of the product complemented with people, nature, food, a textured background or even other products. Combining elements to create an in-context photo will help you convey a certain quality, tone, or mood that will influence the viewer's perception of your product and ultimately your eCommerce store.