The 10 most important Reasons Why Your Restaurant in Cyprus Needs a Mobile Site
Restaurants are the single most popular searches on the mobile web. Especially tourists and visitors are searching for restaurants, bars and other entertainment on their mobile devices and do expect to find clear, readable information that allows them to understand your offer, to find the restaurant's opening hours and telephone number, possibly the ability to reserve online and get directed through their mobile navigation to your place.
If you're a restaurant owner in Cyprus and don't have a mobile-optimized site, you're already missing out on one of the most important tools for bringing in customers. Read below the Top 10 Reasons Why Your Restaurant Needs a Mobile Site.
1.) Simply having a mobile website puts you in the top 5% of all restaurants.
That's not a mistake. 95% of restaurants in Cyprus do not have a mobile website. With the obvious benefit of having nearby customers find you, an optimized mobile presence puts you on the inside track for success.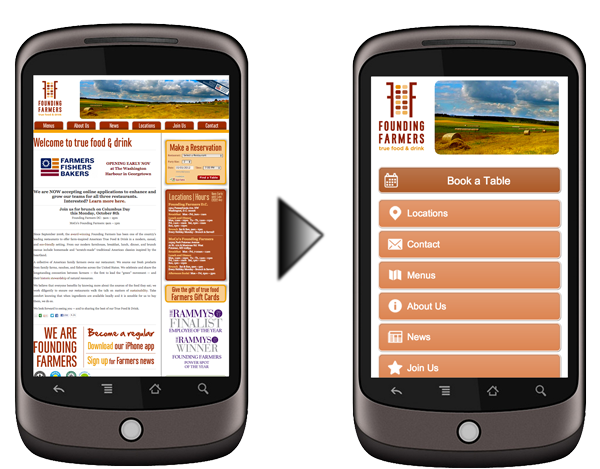 2.) 62% of consumers are less likely to choose a restaurant if they can't read your menu on their device.
If your customers simply can't read your menu, the next logical step for is them to search for another restaurant (your competitor). Avoid the dreaded pinching and zooming on smartphones and keep the experience as easy as possible when your customers are still in the decision process.
3.) OpenTable reservations can be made with just the push of a button.
One of the most reliable ways to ensure customers actually come to your restaurant is to have them make a reservation. This is made much easier through EworksWSI-Mobile's OpenTable feature. OpenTable is the leader in online reservations for restaurants. There's a reason why over 100,000 reservations are made every month on WSI sites.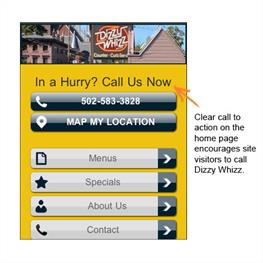 4.) Click-to-Call feature – The easiest way for customers to instantly contact you.
Restaurants average over 50 customer calls per month via our Premium Click-to-Call feature. With the push of the thumb-friendly button on your mobile website, customers can call and get all their questions answered in no time.
5.) Mobile Maps instantly bring nearby customers right to your door.
Having a button that instantly directs customers to your restaurant makes it simple for local diners to find you. No need for your customers to memorize your address either; the smartphone integrated GPS module will guide them.

6.) Business Hours are clearly visible.
Other than location, business hours for your eatery establishment is critical for making sure customers add you onto their dining schedules. It's even more effective when the information is clearly visible right on your mobile website. EworksWSI-Mobile makes this easy for restaurants with our moveable Business Hours premium feature.
7.) Your mobile site is automatically synced with your desktop site.
Don't have time to update your separate mobile website? EworksWSI's mobile sites have the ability to auto-sync changes made to your original website. This means that things like happy hour info, menu specials, deal announcements, and image content will automatically update to your mobile site in real-time. Your restaurant's Facebook content can get pulled too.
8.) Restaurant Menus can be specifically optimized for mobile.
Some restaurants simply have .PDFs of their menus that may be presented nicely, but are difficult to read and take forever to download on a smartphone. Some menus are also too big to view on a mobile device.
EworksWSI-Mobile makes use of Locu technology to make it easy for menus to be viewed by potential customers, ensuring that their experience for considering your restaurant is as frustration-free as possible.

9.) Yelp reviews on your mobile site showcase just how happy your customers are.
Yelp has quickly become the standard for restaurant reviews on the web, and ensuring that customers are able to discover these reviews right on your mobile site is critical. EworksWSI-Mobile integrates Yelp's technology on your mobile site for a quick snapshot of independent reviews, so prospective customers know what to expect without leaving your site. It also helps remind them to leave a positive review on Yelp for your restaurant after their dining experience.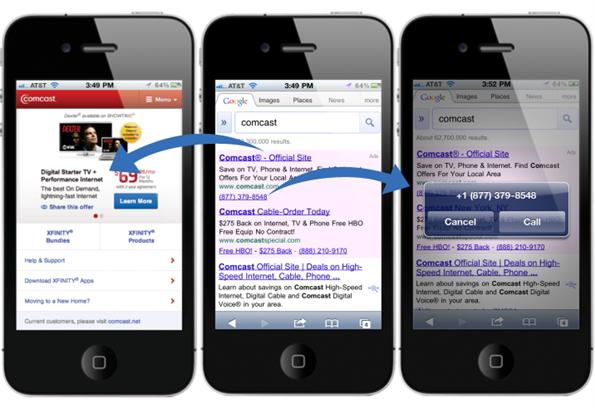 10.) 75% of consumers choose a restaurant based on search results.
With a mobile website, restaurant customers can find you easier on local Google searches. Restaurants with an optimized mobile site are more likely to receive local visits with a better Google search ranking. There's also an option for mobile search advertising for your business, which greatly increase the chance of customers finding your business even with a generalized local search. The obvious trend here is simple — the mobile experience is everything for ensuring that customers visit your restaurant.
Your customers are already mobile, so get started and make sure your customers on the go are fed!
Sign up to build your premium restaurant mobile site with EworksWSI-Mobile today!