When beginning a new ECommerce project, we start to focus on the overall ecommerce strategy before really getting into the design/development of the eshop/website itself.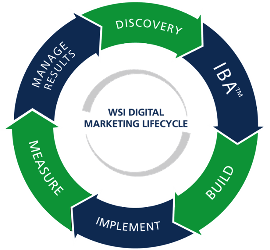 The ECommerce Customer Lifecycle is part of the general WSI Lifecycle that frames all web related development projects and is used at EworksWSI as a tool to help us better define our client's ecommerce strategy.
Depending on the outcome of the discovery phase we'll decide on the most appropriate ecommerce platform to build that will deliver all requirements within a given budget.
At WSI we'll then look through a series of questions to prime some deeper thinking and research on getting your ecommerce site to perform.
These questions explore five key areas:
Acquisition: How do you get people to your ecommerce site?
Conversion: How do you get them buy once they're in your eshop?
Fulfillment: How do you get them the product?
Retention: How do you get them to come back and buy again?
Analytics: How do you measure all of that activity to make sure it's profitable?
Acquisition
During Acquisition, our goal is to understand how our clients plan to get people to their websites, aka 'online marketing'. There are hundreds of ways you can drive traffic to your site, but it all comes down to creating fresh, unique and interesting content and we think of the overall process in terms of channels, which often include:
Social Media - Picture driven social media platforms. Use your already existing product images to create a campaign on Pinterest, Instagram, etc


Email Marketing - Inform of new prodcuts, special offers, continue to engage with clients, telling stories, is your ecommerce email marketing integrated with your ecommerce platform?


Paid Advertising - Adwords (international), Facebook (local); what is your acquisition cost, ROI, what are the most profitable channels?


Influencer Marketing - Who are the most influential Bloggers in your industry?


SEO / On-Site Content - make sure your E-Commerce platform allows to handle easily the current SEO topics


PR / Off-Site Content - brochure, flyers, radio


Event Marketing - can your platform handle 'Events' and promote them? Online / offline events, building your community


Traditional Media - link them to your e-shop


Discovery
During the discovery session, we look at each of these channels and ask the following questions:
Platform: What tools do you use to manage these channels?
Measure: How do you measure ecommerce metrics and traffic analytics? Who, from where. Referral channels, Use the Goal conversion feature in Google Anayltics to calculate exactly your ROI. Does your platform integrate all this data in a dashboard?

Competition: Do you know your online/offline competitors?

Performance: What metrics define success for each channel?
People: What people in your company are responsible for managing these channels?
Going through this process allows us to extract interesting insights on the business that will later inform our design and marketing strategies. Some take-aways we might have from our exploration could include adding the following needs to a project:
A dynamic landing page to tie into a paid advertising campaign with the goal of increasing conversions

An integrated social media feed to highlight an Instagram campaign of user-submitted photos

An interactive event calendar to showcase offline marketing events