Shopping cart abandonment
We call Shopping cart abandonment the situation when online shoppers add items to their online shopping cart, but leave before completing the purchase.
Why are shoppers leaving the shopping cart?
Shopping cart abandonment rates vary on different sites, but many of the top reasons people leave the shopping cart are the same across ecommerce sites.
Here are some of the major reasons why potential buyers abandon their cart: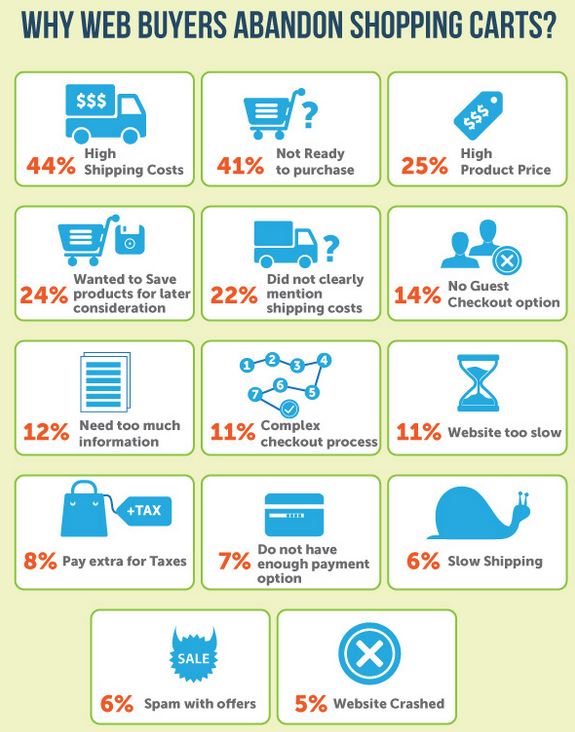 A significant portion of site visitors who add something to the cart never complete the transaction. Lots visitors of your site don't convert. Auditing with Google Analytics or any other analytics program why people leave their cart is a major lever to improve conversions for your online store.
It comes at no surprise that 'High shipping cost' is the main reason stipulated for shopping cart abandonment, the best strategy here is to offer some 'free shipping' possibilities.
The 2nd reason is 'Window shopping only', i.e. 'not ready to buy yet'; you can easily incite visitors to return to your site and finish their purchase by using our proven remarketing/retargeting technics.
If eshop owners most probably know how to calculate their online prices, just don't forget that ecommerce is a very competitive marketplace and it's very easy to for customers to compare prices and get the best deal.
24% of the shopping cart abandonment is due to the clear absence of a 'wish list', ecommerce owners can make sure that their ecommerce platform offers the possibility to visitors to save products for later view and consideration.
If EworksWSI in Cyprus can be of any assistance to analyze and tackle you 'shopping cart' headache, get in touch with one of our eCommece experts here