---
Update:
On September 2, 2013, Microsoft announced that it was buying out Nokia's devices business for 7.2 billion USD
The Nokia apps cannot be accessed anymore
---
Original post:

Create Mobile app for Nokia Smartphones
Do you want to give your customers and prospects mobile access to your information?
More and more people are accessing information on the internet through mobile devices and Cyprus mobile users are catching up very fast.
Nokia is by far the largest mobile phone brand present in Cyprus.
Get Your logo on your clients mobile
You'll definitely enhance your relationship with your clients by having your mobile application (with your logo) on your customers Nokia Smartphone.
Now every business in Cyprus can give easy and instant access to company news, products, FAQ updates etc (the possibilities are endless...) through mobile apps that work on Nokia Smartphones.
We created a mobile app for our Internet marketing blog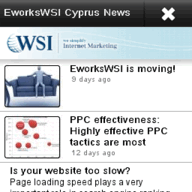 The app named :'EworksWSI Cyprus News' pulls pictures and posts from our blog and make the information instantly available to those who have downloaded the app to their Nokia Smartphone.
The picture shows a screenshot of our application as it shows on the smartphone screen.
Would'nd it be great to have your company logo on your clients mobile phones?
Download EworksWSI Cyprus News app to your Nokia phone to test it
It's free, but you may want as well sell your own app through the Nokia app store.
We publish regularily more
information about mobile marketing in Cyprus
.
Please
contact EworksWSI
if you want to get your own Nokia application.
Mobile marketing is the next big change in accessing online information that will definitely change our online habits in Cyprus.