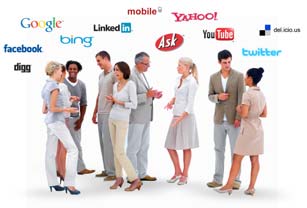 Social media have become an integral part of tourism marketing. This new way to communicate with clients has revolutionized the industry in Cyprus and has largely replaced the traditional client communication and interaction. This was of course expected as the Cypriot tourism & travel industry was one of the sectors that benefited the most from the internet. As a result new technologies and networks have become useful tools for professionals of the sector.
We will discuss the essential practices of social media marketing in the tourism & travel industry and explain how they can help you promote your business, increase brand awareness, attract more visitors on your website or other webproperties and ultimately increase profits.
Why does the Tourism industry need social media?
The internet is constantly evolving. After the WEB 1.0 that was a simple transmission process of the provision of information (brochure web-sites), the WEB 2.0 proposes more interaction with your visitors. New web technologies and fast internet connections are more widely available. Users have now mobile access to rich/interactive types of data such as audio, videos and photos with which they can interact.
The introduction of Social Media networks has revolutionized the industry. Now it is not only the "industry experts" that publish their reviews on travel related websites and channels but also simple internet users rate destinations, create content, write reviews, exchange experiences, publish their videos and photos etc.
Through social networks information spreads even faster and with less cost. The word of mouth has been proven an effective way of promoting businesses and several viral marketing techniques have been developed in order to engage internet users.
Social media networks are valuable tools for companies that belong to the travel industry as they can help to promote services with less cost, attract user attention and above all generate buzz around brands, services or travel destinations.
The Benefits of Social Media Marketing
Please find below a list with the most important benefits of using social media campaigns.
Social Media marketing can help you:
Create new channels to promote your brand
Communicate with your clients
Come closer to your potential customers and engage them
Generate buzz around your brand and increase your online reputation
Distribute the content of your company or organization and promote your blog
Increase the traffic of your website
Gain links and improve your SEO
Get feedback from the comments of your visitors and improve your business
Promote your content without cost
Build stronger relations with industry experts
Social Media best practices and Basic Tools
Here are the basic tools and practices that can help you improve your social media presence:

Facebook: Create a page and share your content, news, photos and videos. You can promote/organize events, create special offers for your fans, add applications to attract reviews from your customers or set up a booking application for easier online booking. Don't forget to be immediate and creative. Make people "like" you!
Twitter: Post about your interests/news, find experts in tourism, travel bloggers and people who interested in traveling. Follow them and share your news and your content. Twitter provides a great opportunity for businesses to engage visitors in a conversation. Be part of the travel community and they will "follow" you!
YouTube: Set up your own channel on You Tube, upload your videos and give an audiovisual essence to attract audience. Call viewers to "watch" your videos and subscribe!
Flickr: Upload your best photos and give the permission of common sharing to others. "Photo sharing" always attracts travel lovers!
Foursquare: Allow users to publish information into their social networks from their moble phones: Get listed and let people find you and "check in"!
Trip Advisor: Submit your company to the biggest online travel community and promote your brand via your visitors' comments. Customer's reviews can help your reputation management and increase your sales. Urge travelers to "recommend" you! Above all don`t forget to monitor what they say and reply to their comments.
Social Media Bookmarking: (ex. Delicious, Stumble Upon, Digg) Social Media Bookmarking is a fast method to convey your message, to promote your business on the Internet. Also it is an easy and simple tool to promote your blog.
Website: Integrate your social media properties with your website! Add the social media buttons in strategic positions on your pages for a more interactive communication with your potential customers.
Pinterest: Pinterest is a social photo sharing website that has also been described as an online pin board. It has more than

10 million registered users

. Posting your product and service images and videos is a great place to start

.
Don't forget that content creation and blogging are essential and should be supported by your social media efforts in order to attract more readers and generate positive buzz around your brand.
Seems overwhelming? There are many tools that we can help you implement to automate Social Media submissions.