Integrating Display Advertising into Your Digital Marketing Strategy
Innovative Strategies for Attracting Your Target Market
Which Is The Oldest Form of Advertising?
It may have changed its form and representation many times, but display advertising is one of the oldest forms of marketing. And despite the numerous debates that rage on about its effectiveness as an advertising medium, even today, it continues to be the most widely utilized advertising mechanism. The battle for eyeballs has now also shifted to the digital world. In the modern day context, the virtual world is consuming more and more of our attention and time. This makes it imperative that information about your products and services be made available through a medium that is slowly becoming the primary source of information for consumers. And this means integrating display advertising into your overall digital marketing strategy.

Dynamic Display Solutions
Have you ever started noticing a certain type of car after somebody talks about it or you have a significant amount of exposure to it? For example, your friend gets a new car and in the following weeks, you'd swear that every other car you see is of the same brand. You see them in every style, color and custom body-type they come in. Just wait, you'll probably notice one out on the road today and have thought that so many cars of the same model are around.

This phenomenon is called top-of-mind awareness and it's exactly why display advertising works so well. Our display solutions give your business the chance to remain top-of-mind for potential customers who might be interested in your product or service, or have visited your site but not made a purchase. Businesses often assume that once a potential customer visits their site and decides not to buy that they're a lost cause. Never assume!
The Display Advertising Advantage
Unlike the traditional form of display advertising, which tends to be static, and mainly text and image based, the online version makes use of various other elements including audio and video. It may then be presented to the consumer in the form of a banner ad or rich media. This opens up various possibilities for you as an advertiser. You can now also leverage the audio-visual medium in a cost-effective manner to provide prospects information in far greater depth. This could include a product demo or an interactive format such as games, which may be more effective in converting prospects into paying clients. Additionally, display advertising offers the advantage of being delivered to a targeted market segment. You can ensure that your ad is placed only on websites that are relevant to what you are selling. This increases the possibility of a prospect viewing your ad being interested in obtaining more information about your product. Once again, the potential conversion ratio is higher.
How to Use Display Ads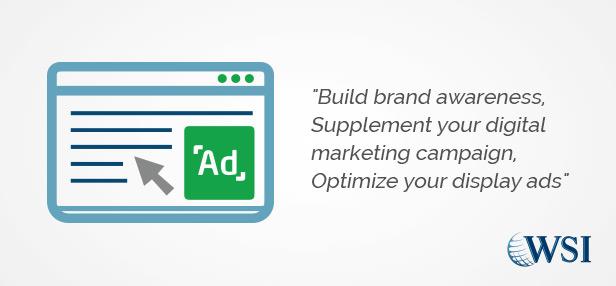 Hooking The Intelligent Customer
Consumers are smarter than they've ever been and spend more time looking for information online. It's very likely that potential customers visiting your site for the first time aren't yet ready to make a purchase. If they leave your site and you aren't doing anything to get them back, they may not come back. But display advertising has the ability to keep your products or services top-of-mind for the potential customer and even nudge them back to your site.

EworksWSI's display solutions work by placing your ads in front of surfers who are looking for something similar to your products and services, or have previously visited your website (meaning they will see your banner ads when they are on other websites). In some cases, people will click-through the banner ad. Others may return to your site sometime later simply because you're stuck in their heads. At the very least, it's better to be proactive and turn people your business had written-off into new customers.

Display Advertising Tips to Provide Maximum Benefit!
As mentioned earlier, display advertising can be used to create all types of ads. The biggest advantage however, is the ability it provides to closely monitor the performance and outcome of your ad campaign. This enables you to manage and track your budget, and make investments in areas that provide maximum benefit.
Segmentation: A lot of groundwork, however, needs to go into your strategizing to ensure your brand recall remains high. The first question you need to carefully consider is what will be the focus of your campaign. In case you have multiple product or service lines, you need to decide whether you want to focus on any specific unit or spread your campaign across multiple product lines. In case of the latter, you need to ideally create individual campaigns for each product or service line. This will enable you to manage and track your account much more effectively including fine-tuning a campaign midway based on regular analysis of reports received. This includes identifying the latest consumer trends, online properties your target segment regularly visits, and keywords that seem to be attracting maximum traffic.
Search and Display: If ensuring maximum eyeballs for your product or service is the key then you can opt for the impressions option wherein you pay whenever your ad is displayed as a result of matching a search query criteria. This method enables you to reach a prospect based on the point they have reached in the purchase cycle. This is also a more proactive approach since your ad is being displayed to customers who are searching for related information. For instance, an increasing number of customers conduct an online search prior to purchasing from a store.
Targeted display: These could be around aspects such as a specific demographic you want to target, or behavioral aspects based on their recent online activity. If your business is local in nature you could ensure that your ad is served only in that specific geography. In case you want to have tighter control over your spend you can opt for the CTR or "click through ratio" option. This ensures you only pay when a likely prospect has clicked an ad and visited your website. More importantly, you can set a daily budgetary upper limit and thereby gain control over your campaign budget.
Boost Engagement By Remarketing and Retargeting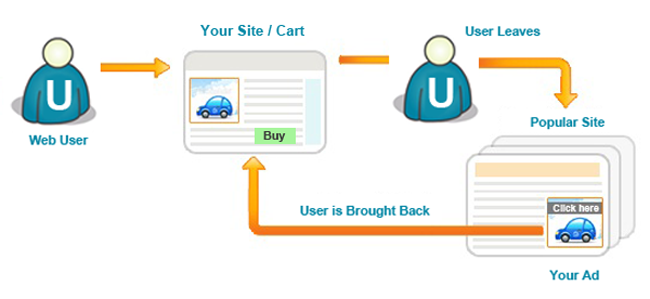 Which Method is Right for Your Business?
Web technology now offers you the option of continuing to engage with customers who may have moved on to other sites after visiting your webpage. Two key trends that are making waves and providing immense benefits are: remarketing and retargeting.
Retargeting: Few users are likely to convert on their very first visit to your website. Most will continue searching other sites for more information. The retargeting method can be used to try to engage prospects who visited your website once but did not check out. Their visit to your website ensures that they know about your brand. Now you leverage that familiarity to continue serving display ads about your business on other sites they visit. This continuous exposure to your brand across multiple websites increases brand recall and reinforces your credibility. All you need to do to enable this is to place a Java script within your HTML coding.
Some retargeting best practices include:
Ensuring a clear call to action in all your ads
Serving ads based on clear visitor segmentation
Focusing a single product or service line through each ad
Understanding the criticality of the service being researched and accordingly adjusting the frequency of display
Remarketing: This particular trend goes a step further. The third party information you gather via the cookies is dropped into various systems to track the online behavior of your prospects. Now, with remarketing you take advantage of first party information you may have gathered about those users to conduct focused digital campaigns. You can leverage direct marketing mechanisms such as email to target customers who come to your website but leave without completing an action. Remarketing attempts to convert such prospects through marketing mediums that extend beyond online behavioral tracking. This makes it imperative that you make remarketing an integral part of your overall digital campaign.
It can help you:
Analyze online insights and combine it with existing data to reach out to customers
Deliver targeted display ads
Convert prospects who are still unsure about taking a purchase decision
Localize your campaigns to win new customers in your area
Ensure high brand recall by leveraging multiple mediums Improve brand credibility and customer loyalty