Real Estate Websites in Cyprus
Are you wondering what is involved in bringing up a Real Estate Website in Cyprus? You want to use the best real estate platforms to publish and update your properties easily, and have a tight control over your budget? Our team at EworksWSI Cyprus will outline the process and provide some guidance and best practices to help you realize the best real estate online solution.
Is the Real Estate sector in Cyprus suitable for online?
Yes, no hesitation, a modern online presence is a must for every real estate agency in Cyprus. It is most probably true everywhere in the world but to publish your real estate catalogue is even more important in Cyprus. The Real Estate sector was entirely digitized a few years ago, i.e. the traditional property catalogues, Real Estate expos and fairs etc have all been replaced by Real Estate websites and applications. It is not only the technology but your potential clients habits have changed and a digital real estate presence is not only accepted but expected. 90% of home buyers searched online during their home buying process (1). Online real estate research expanded into all ages groups and 75% of Senior Home buyers go online to search for a home to buy.
A real estate purchase or renting a new home is in most cases a lengthy process during which the potential buyer will search, compare, refine his searches, create a short list, only then might contact one or several real estate agencies. Shoppers will perform an average of 11 searches prior to taking action on a real estate site (1).

Here lies an extraordinary opportunity as even smaller local Real Estate Agencies can get in front of international clients and compete with the big global networks of agencies. Those agencies that do not understand this expectation will miss the trend and potential business. Lots!
The Cyprus Real Estate market can be roughly divided into 'local transactions' and 'international purchases'. In 2016 local real estate transactions are mainly driven by necessity, i.e., founding a family and needing a home; creating a company and looking for Offices or Warehouses. The infamous real estate speculation seems to have disappeared this year. Due to the financial crisis that hit Cyprus in 2008, the local real state market shrunk, rental and purchase prices plumbed. This market segment has not yet recovered.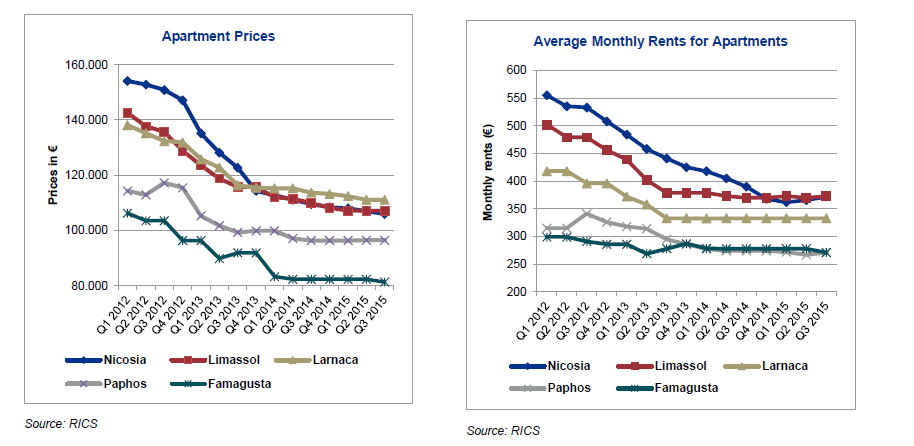 The International real estate transactions are mostly recreational / residential in Cyprus and highly seasonal. Of the total volume of transactions it is noteworthy that 31,3% were related to sales to foreign buyers in 20145. This is a 9,39% increase from 2014's comparative figure (Source: CYSTAT).
No wonder, the privileged situation of the Island in the Mediterranean Sea, long-term low property prices in comparison to other comparable destinations, and especially the recent decrease in price per square-meter have prices now bottoming out. It is today the international clientele that sustains the real estate market in Cyprus.
And all local Estate Agencies must get in front of their international buyers. How? On the Internet!
A summary of the significant factors and major drivers of the real estate market in Cyprus by KPMG

1277kb - 18-May-2016 - Download - Save for Later

---
Real Estate client's online behaviour
real estate buyers use all available devices, mobile at home is particularly important
a potential Client does not search for a Real Estate Agency but for a product
real estate prospects will do their initial search with a limited number of parameters (transaction type, property type, location, maximum price) and then they

refine the listing by filtering other criteria like minimum surface, number of bedrooms, equipment

clients expect good pictures and relevant videos. Real estate Video is dominated by YouTube
Real estate agencies need to translate the the above habits into their sites and User experience (UX).
Responsive Design
Prominent, short and concise Search form

Easily accessible and clear product listings
Filtering, wishlist, comparisons
Photogalleries, video galleries, video channels

Industry Overview The residential real estate brokerage and management industry is largely driven by population growth. Profitability of this industry is dependent upon the demand for properties and, subsequently, the volume of transactions handled. These factors are typically higher during periods of strong economic growth and can suffer from a recession or too much new construction. Major services in the industry include real estate brokerage, leasing of residential units and property manageme

6002kb - 26-Feb-2013 - Download - Save for Later

---
Responsive Design in real estate websites
All sites should be mobile friendly by now (if you are not sure if your real estate site is considered mobile friendly, take the mobiel test from Google here) and Google recommends to implement a responsive design, the same content is automatically reformatted to display correctly on all screens.
For real estate websites, the challenge lies in not overwhelming visitors with too much information and rendering photo and video galleries responsive. People don't read long texts on mobile devices, so adapt the amount of information that is available at once to the screen used. The principle is: the smaller the screen, the more layered the information should be, i.e. on a big screen the property parameters can be displayed side by side with the entire description, the video and photo-gallery. On small mobile screens should be on top of each other and accessible either by scrolling down or click-through. It is important that the main search criteria appear at the very top of a property (Type, Bedrooms, Location, Price).
Short and concise Search form
The Real Estate Search Form is the center piece of the Home Page of your Real Estate Website.


Clear property listings