Wordpress websites in Cyprus are very popular

WordPress is a webplatform that is Easy to Use and Learn. WordPress is opensource, meaning it is essentially free to download and use. Millions of people have developed their websites on Wordpress and almost every day new users are joining the WordPress community by creating new WordPress powered dynamic websites. One additional reason why people quickly adopt WordPress as a web-platform is because it is fairly easy to use.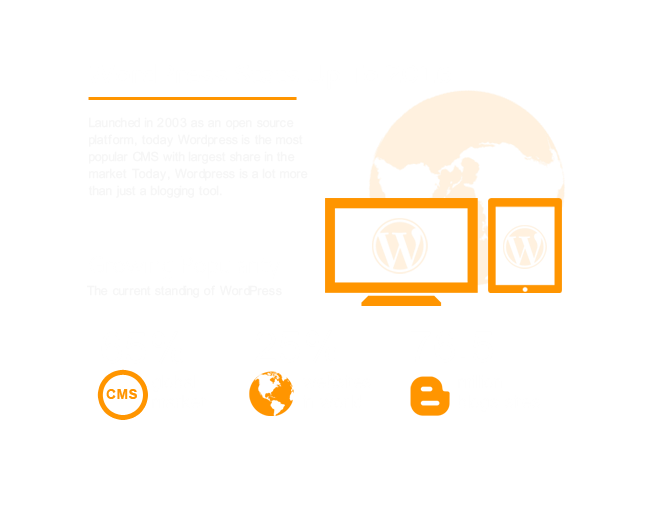 The Wordpress platform was launched in 2003 as an open source blogging platform and since then has been available in Cyprus. Until 2016 Wordpress has evolved into the most popular CMS (Content Management System), powering globally more than 25% of all websites worldwide.
Wordpress is today much more than just a blogging tool and we develop sophisticated websites in Cyprus. Wordpress itself and the vibrant wordpress community make thousands of themes and plugins available, some free, some paid. At EworksWSI Cyprus we have the ability to develop customized Wordpress themes and plugins to have your site look, feel and run exactly as needed.
Wordpress comes highly optimized for Search Engines
With SEO in mind when selecting a content management system, WordPress offers a number of SEO options right out of the box that can help business owners in Cyprus to get on the top of search engine result pages (SERPs). Search engines like Google have expressed a preference for WordPress as it applies a logical architecture and responsive design. The Wordpress code is (generally - but this depends also on the specific themes and plugins) clean and search engine spiders will easily crawl your site.
SEO procedures can be customized either directly on Wordpress pages and blog posts with own meta tags and keywords or through specific SEO plugins that cater for more precise SEO.
How to build your first wordpress website in Cyprus?
Go to wordpress.com and start a free plan. It's easy, free and fun. Select a theme, add you text and images and you're up and running. If you need more sophisticated options or assistance on your wordpress site,don't hesitate to contact us.
Digging deeper into the wordpress functions and possibilities you may want to progress and acquire the ability to manage complex site features yourself. We propose several Wordpress classes that teach you the level you need.
Wordpress is more than a personal blogging and publishing tool
We build sophisticated customized multilingual Wordpress based sites for businesses in Cyprus. The creation and maintenance of business sites need generally professional Wordpress developers that are able to assure the running, security, server management and technical updates of your wordpress site. The content creation and publishing remains easy and is mostly done by our clients.
Wordpress has integrated the eCommerce plugin WooCommerce that allows the creation of wordpress based ecommerce applications in Cyprus.